The Living Proof Difference
Many of our founders came from backgrounds in medicine, where safety and effectiveness were their top priorities. And, we've kept that same thoughtfulness in our research and development at Living Proof. We maintain the highest quality standards by testing every single batch of products that we produce to make sure they're safe, effective, and don't compromise performance.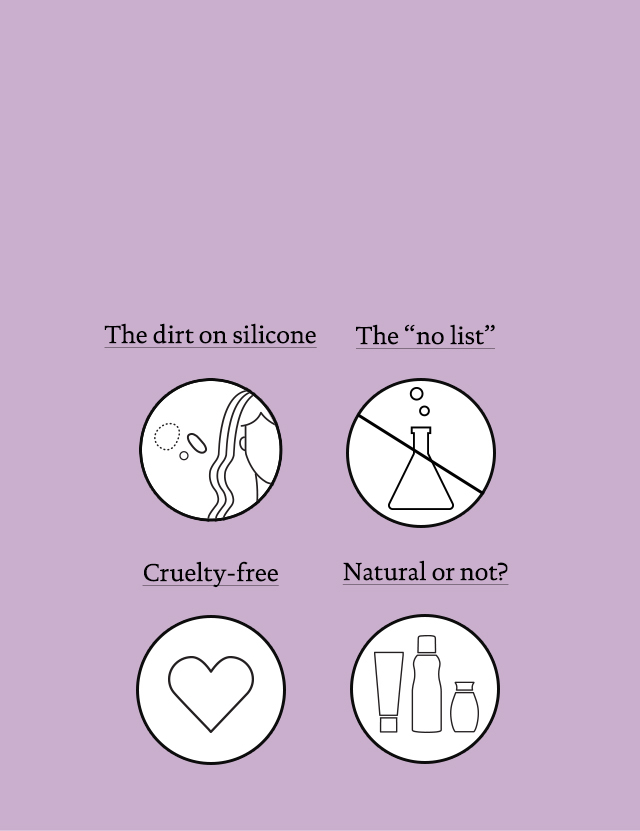 Our Ingredient Philosophy
When sourcing our ingredients, we prioritize high-performing, cruelty-free innovations that don't compromise safety.

Our Patented Technology
Because when brilliant science influences beauty, breakthroughs happen.
Healthy Hair Molecule
Our proprietary ingredient that repels dirt, resists humidity, polishes and protects hair strands, and smooths hair—without weighing it down. The result? Healthier hair over time.
Thickening Molecule
Our patented molecule that creates a microscopic pattern of thickening dots on your hairs' strands, bringing long-lasting fullness and thickness to your hair.
Locking Molecule
Our molecule forms a protective layer to help lock in color and improve overall hair health. It replenishes the outer layer of hair, which is often damaged during the color process.
Volumizing + Texturizing Molecule
Our molecule delivers big volume and texture to hair without weighing it down. It can work on dry hair for instant results—anywhere, anytime.
The Dirt on Silicone
What they are:
A class of compounds widely used in skincare and haircare because, frankly, they feel great. In haircare, they are most often used to smooth the hair (you'll often find them in frizz-fighting products) and add shine, but they tend to be quite heavy and don't always coat the hair evenly.
Why we don't use them:
Heavy silicones can weigh hair down, causing you to wash more frequently, which causes long-term damage to your hair. We replaced silicone with our own proprietary ingredient, our Healthy Hair Molecule, that smooths hair, blocks frizz, protects against damage, repels dirt, and doesn't cause any long-term damage.
---
The "No List"
Responsible performance. No compromises.
Ingredients aren't black and white, or simply good or bad. Here, we break it down for you.
Pthlalates:
In personal care, they can be found in fragrances. We don't use them because they're thought to be endocrine disruptors.
Parabens:
A type of preservative, parabens are found in beauty products to prevent bacteria and mold. Parabens were thought to be endocrine disruptors. And while there isn't strong research to support the health risks of parabens, we know our consumers don't want them in their products, so we don't use them.
Formaldehydes (Donors + Releasers):
A type of preservative, formaldehyde donors release a small amount of formaldehyde over time to prevent the growth of microorganisms. While formaldehyde donors are considered to be safe at low levels, there are some studies that show that formaldehyde can cause allergic contact dermatitis in skin. We've chosen to use other preservatives in our formulas that are less likely to cause this type of allergic response.
SLS + SLES:
Sodium Lauryl Sulfate (SLS) and Sodium Laureth Sulfate (SLES) are effective cleaning agents used in a wide variety of personal care products, such as shampoos, body wash, and toothpaste. However, they can be a little too effective and can actually strip and dry your hair. While SLS and SLES are safe for use in shampoos, we formulate our shampoos with alternative surfactants that are effective, yet mild and gentle.
---
Cruelty-Free
Living Proof is a part of PETA's Beauty Without Bunnies program. We are cruelty-free, and conduct absolutely no animal testing.
---
Natural or not?
Natural is a well-intentioned, but largely unregulated, term. It doesn't necessarily mean safe—in fact, there are plenty of "naturally occurring" allergens.
We lab-engineer our beauty breakthroughs, but your safety is always our top priority. Just because something was found in nature or made in a lab doesn't make it inherently safe or unsafe. Our products are safe, effective, and thoroughly vetted.