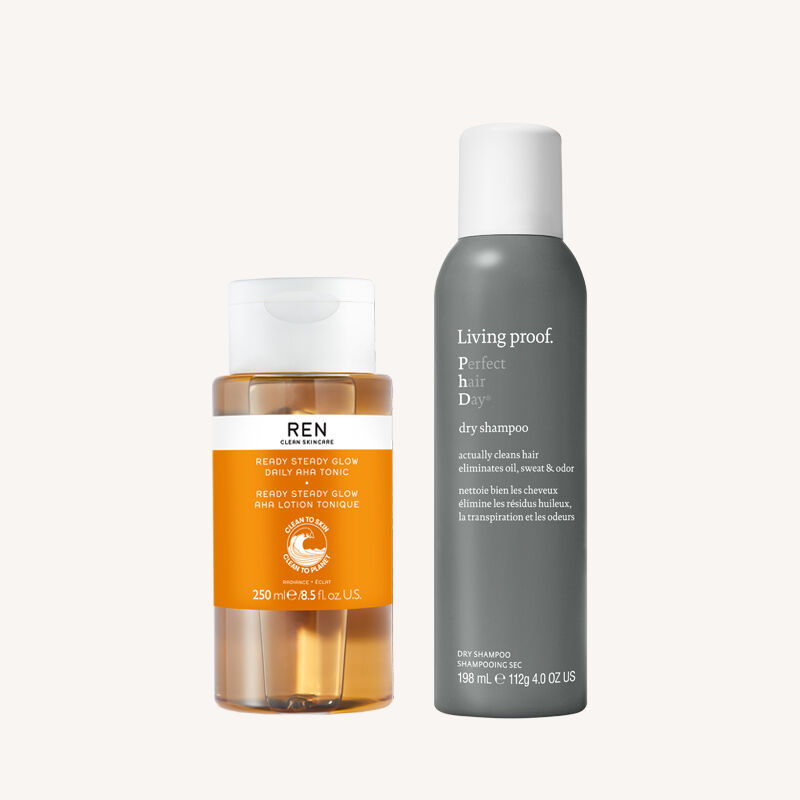 test

REN x Living Proof Glow and Refresh Power Duo
REN's cult-status Ready Steady Glow Daily AHA Tonic exfoliates, brightens, tightens and hydrates for a smooth, even and energized complexion that's all glow without the irritation while using only clean ingredients. 

Perfect hair Day™ Dry Shampoo actually cleans hair, eliminating oil, sweat, and odor. .
Price reduced from

$67.00

to
$51.00
Key benefits
Our Perfect hair Day™ dry shampoo:
Absorbs oil, sweat, and odor
Makes hair look, feel, and smell clean
Delivers fresh scent throughout the day
REN's Ready Steady Glow Daily AHA Tonic:
Brightens the appearance of skin
Gentle enough for daily use and all skin types
Exfoliates and smoothes for a more even texture
the science
This waterless shampoo is powered by our Triple-Action Cleaning Technology to address how hair looks, feels and smells. Fast-absorbing powders soak up oil and sweat while our patented Healthy Hair Molecule helps you remove the powders easily from hair, resulting in actually clean hair. Odor neutralizers and time released fragrance keep hair smelling clean.

The result: your hair will look, feel and smell clean. You'll want the full size and travel size dry shampoo so you can take it with you anywhere you go.
FAQ
faq
What makes Perfect hair Day™ Dry Shampoo different than others on the market?
There are countless dry shampoo options available – aerosols, powders, clear formulas, tinted options – that don't actually clean your hair. In fact, the powder-based formulas soak up oil (not sweat) and leave behind a residue that you can see and feel. PhD Dry Shampoo was designed to mimic a regular shampoo and the effects of washing your hair, giving you similar results as if you just washed it in the shower. Perfect hair Day™ Dry Shampoo can clean beyond an ordinary dry shampoo, absorbing oil, sweat, and odor.
I have curly hair and don't want to break up my curls, how should I use Perfect hair Day™ Dry Shampoo?
Apply Perfect hair Day™ Dry Shampoo as directed. Instead of massaging with fingers or brushing hair you can use a blow dryer on low speed to remove the powders from hair (the force of the air will remove powders without disrupting curls).
Does it work on all hair types?
Yes, it can be used on any hair type. For thicker, coarser hair texture, section more thoroughly. For curly hair, remove powders with a blow dryer (vs. fingers or brush, which will deconstruct the curl).
Can you layer with other products?
Yes, you can use PhD Dry Shampoo on top of hair products you used on damp hair to style (i.e. styling cream followed later in the day or the next day with dry shampoo). You can also use PhD Dry Shampoo before using products on dry hair to re-touch (i.e. dry shampoo followed by hairspray or finishing serum).
How does it interact with other types of products?
PhD Dry Shampoo is compatible with all Living Proof care and styling products. The powders in dry shampoo may stick more to resin-base products (i.e. products that have hold). The powders should still be easily removed. If you do still see powders after using fingers and/or brush, use a blow dryer for more thorough removal.
How much should I spray?
The amount of dry shampoo depends on your hair type and the level of oil, sweat and odor in hair. Section hair, spray for 1-2 seconds at a time. Wait 30 seconds for the powders to activate and cleanse. Remove by massaging your hair with fingers or brushing your hair. Then, add more as needed.
I see white residue. What should I do?
White residue that is easy to remove is normal and expected—especially if you have dark hair. To remove the white residue, rub and massage hair with fingers and/or use brush. A boar's bristle brush will be the most efficient in removing the powders. If white residue still exists, use a blow dryer.
Does this break down or remove (clean) other products from your hair?
No, we know you worked hard for your style and don't want to start from scratch. PhD Dry Shampoo absorbs and removes just the bad—oil, sweat and odor.