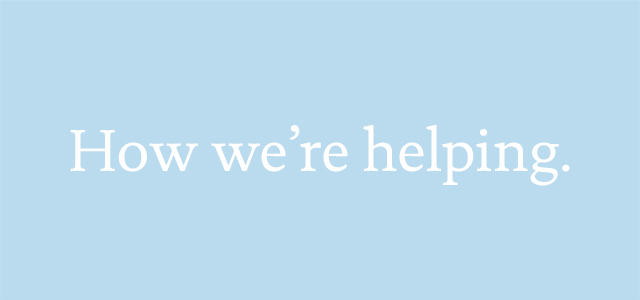 At Living Proof, we're committed to solving problems both big and small. That's why we're taking action to support our community in confronting the COVID-19 crisis. From the healthcare workers on the front lines to the thousands of small businesses that have been impacted, we want to what we can to help out.


---
Here's how we're helping (and some areas where you can help, too).


Supporting our healthcare heroes
Thanks to your nominations through our Instagram platform, Living Proof has given away more than 1,000 shampoo and conditioner sets to the heroic people making a difference on the front lines. It's our way of saying thanks, and we hope this adds a little bit of self-care love to those who are doing so much to care for our community. We are replicating this in other regions as well.
Supporting our community
Salons and stylists are an integral part of the Living Proof community, and they've been hit particularly hard by this crisis. Some are on the verge of collapse with no way to generate income and no end in sight. That's why we're supporting the Professional Beauty Association's (PBA) COVID-19 Relief Fund, developed to help beauty professionals who are experiencing financial hardships due to the outbreak.

Living Proof is donating $10,000 to support applicants from the stylist community in need. Donations are tax-deductible, and 100% of proceeds are distributed to recipients. If you would like to donate or apply for a grant, please visit the PBA COVID-19 Relief Fund website for more information.
Supporting the problem-solvers
We've been working with the Massachusetts Institute of Technology (MIT) for years and have great admiration for this problem-solving institution. That's why we're supporting MIT Solve, a marketplace for social impact innovation and entrepreneurship.
MIT Solve recently launched a Health Security & Pandemics Challenge, inviting tech-based social entrepreneurs to pitch their most innovative solutions to prevent future crises. The most promising ideas will be funded by MIT Solve and supported by their extensive network of mentors in business, academia and beyond.
Like MIT Solve, we believe in the power of human ingenuity to tackle the world's toughest problems. That's why we're committing $15,000 to fund a Solver Prize, which will support scaling the most innovative ideas to improve global health security and mitigate future pandemics.
---
Thank you for being a part of our supportive Living Proof community. Please be safe and well!